We are pleased to announce that Sunday, September 18, 2011 at 9pm EST Money Can't Buy Love author, Connie Briscoe will be our Guest Host for #blacklitchat Tweet Chat on Twitter!!!!!!!!!! So all you fans of PG County & Sisters & Husbands lets have an online book chat with the author .
So Who's Connie Briscoe?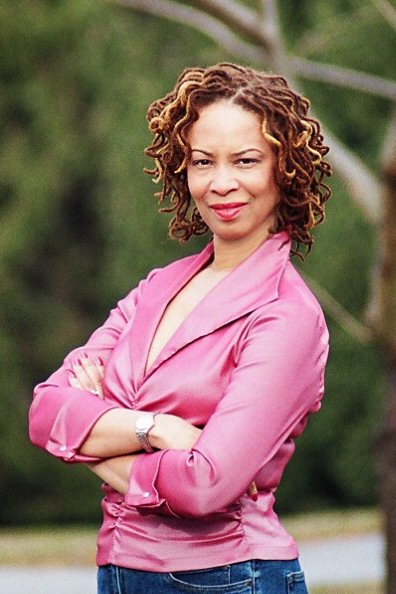 CONNIE
BRISCOE
has been a full-time published author for more than ten years. Born with a hearing impairment, Connie never allowed that to stop her from pursuing her dreams…writing. Since she left the world of editing to become a writer, Connie has hit the New York Times, Chicago Tribune, Washington Post, Boston Globe, Boston Herald,
USA
Today, and Publishers Weekly bestseller lists
.
I've heard abo

ut Money Can't Buy Love, but don't know what it's about?
Lenora Stone used to say if she didn't have bad luck, she wouldn't have any luck at all. At age thirty-eight, instead of socializing with Baltimore's A-list, she photographs them for Baltimore Scene, a glossy magazine filled with beautiful people who, unlike Lenora, never have to worry about car trouble and overdue bills. As much as she'd love to slam the door on her overbearing boss, quitting isn't an option. She's barely making her mortgage payments and, though her condo might not be a palace, it's hers. Lately even things with her boyfriend Gerald haven't been right. They've been together for three years but he can't seem to ask the one question she's been waiting for. But what Lenora doesn't know is that her luck is about to change...
Just when she thinks things can't get worse, Lenora wins the jackpot in the Maryland lottery. In a heartbeat, all her dreams become possible. She quits her job and indulges her every desire-starting with a shiny, silver BMW and a million-dollar mansion. Gerald is finally ready to put a ring on her finger and the city's most exclusive women's group is dying for her to join, officially moving Lenora from behind the lens, into the limelight. But in Lenora's lavish new world, all that glitters definitely isn't gold. Her old friend's are concerned about her sudden changes, and Ray, a sexy, young landscaper Lenora covered for the magazine is looking for more than a purely professional relationship.
As her life starts to come together, the things Lenora holds dear begin to fall apart. Has her world really changed for the better, or does fortune come with a heavy price?
What Others are Saying…
"
Fans of Briscoe, frothy chick lit, and African American pop fiction will enjoy this as a quick summer read."—Library Journal
"One of the spiciest novels of the summer… A talented storyteller on matters of the heart, Briscoe taunts us with the convincing and complex character, Lenora Stone."—Examiner.com
"Known for her skill in developing realistic characters, Briscoe has outdone herself in her depiction of Lenora...Money Can't Buy Love is an excellent summer read..." (Philadelphia Inquirer )

"Fans of Briscoe, frothy chick lit, and African American pop fiction will enjoy this as a quick summer read." (Library Journal )

"It is an entertaining story that leaves you feeling pretty good about your cash-strapped existence." (The Atlanta Journal-Constitution
)
I would love to participate, but I don't understand what #Blacklitchat is. Can you explain?
It's a stream of tweets about books by Black[including Pan-African, African-American, Brit, Caribbean, Canadian Black, etc.] authors in real time during a specified time. Our time for this chat is Sunday, August 21 from 9-10PM EST.
1. Get a Twitter
account, or login, or remember your Twitter Password.
2. Join the chat by clicking this link.
http://bit.ly/blcklitchat
3. Now login with your Twitter Password.
or hangout here at http://twebevent.com/blacklitchat